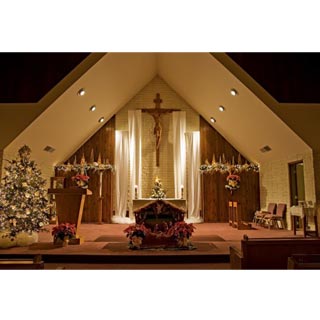 We strive to build and maintain our family through the sharing of the Good News to all people, in order to leave our world more beautiful and faith filled than when we inherited it.
Click here the latest COVID-19 announcements from Bishop Medley.
Letter from Father Emmanuel:
Dear Parishioner, praying you are doing well!
In line with the CDC guidelines and the Governor's directives, our Bishop, Very Rev. William Medley has announced that we can resume the public celebration of Mass within our diocese beginning May 20, 2020. We thank God that we can be able to worship again within our church buildings as we continue to pray for an end to this pandemic.
However, we are to gather in very restricted capacity in compliance with the CDC guidelines. Many things will be different and we are working out plans that will fit our individual parish community.
As a result, with the Bishop's permission for Rosary Chapel, we will resume public celebration of Mass for our Parish on May 31, 2020 (Pentecost Sunday).
This will give us time to plan and prepare for the new ways we will worship which will include social distancing and 33% occupancy of the church building. There are many other details to this and I invite you to visit the website regularly to get more information.
Please note that:
• You are not obligated to come to church even on Sunday. The Sunday obligation is still suspended.
• Mask must be worn if you will be in attendance.
• Little children that are under 2 years old are encouraged to worship from home since they cannot wear a mask.
• You can come for a weekday Mass in place of a Sunday Mass. This will help reduce the number of worshippers for Sunday.
• The elderly and people who are vulnerable are encouraged to continue to worship from home at this time. We will continue to provide resources for them.
Again, I encourage you to visit the parish website regularly as a lot of information will be coming through these coming days and weeks.
Know of my prayers for you as we journey through this together!
Thank you! Stay safe and God bless you!
Fr. Emmanuel Udoh, Pastor
The purpose of the rosary is to help us meditate on the great mysteries of our salvation. Pius XII called it a compendium of the gospel. The main focus is on Jesus — his birth, life, death and resurrection. The Our Fathers remind us that Jesus' Father is the initiator of salvation. The Hail Mary's remind us to join with Mary in contemplating these mysteries. They also make us aware that Mary was and is intimately joined with her Son in all the mysteries of his earthly and heavenly existence. The Glorys remind us that the purpose of all life is the glory of the Trinity.