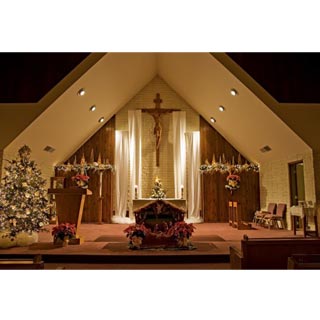 We strive to build and maintain our family through the sharing of the Good News to all people, in order to leave our world more beautiful and faith filled than when we inherited it.
Immaculate Conception Mass – Holy Day of Obligation – December 8 at 10 a.m. at St. Mary in LaCenter.
A meal will be served after Mass. This is a chance for both parishes to celebrate together.
Upcoming Penance Services:
St. Francis de Sales – December 10 at 6 p.m.
Rosary Chapel – December 11 at 5 p.m. 
St. Thomas More – December 16 at 4 p.m.
St. John – December 18 at 6 p.m.
St. Mary in LaCenter – December 19 at 5 p.m.
Christmas Eve Mass – December 24 at 8 p.m.
The purpose of the rosary is to help us meditate on the great mysteries of our salvation. Pius XII called it a compendium of the gospel. The main focus is on Jesus — his birth, life, death and resurrection. The Our Fathers remind us that Jesus' Father is the initiator of salvation. The Hail Mary's remind us to join with Mary in contemplating these mysteries. They also make us aware that Mary was and is intimately joined with her Son in all the mysteries of his earthly and heavenly existence. The Glorys remind us that the purpose of all life is the glory of the Trinity.